What Are Some Trending Hot Luxury Home Features
Posted by Paul Sian on Thursday, May 17, 2018 at 7:00 AM
By Paul Sian / May 17, 2018
2 Comments

What Are Some Hot Trending Luxury Home Features
Whether you own a luxury home and want to make sure it is the best it can be, you are shopping for a luxury home and want to have the latest features in the home you buy, or you want to elevate your current home with some luxury features this article looks at some of the hot luxury home trends that are in demand now. Whether it be the latest and greatest in smart home technology, premium finishes or open floor plans, luxury homes set the trend for what all residential real estate aspires to. As features make their way into luxury homes many home builders and remodelers quickly get to work to figure out how to make those features available to anyone and everyone who would want it. This article explores some of the hot luxury home trends that are available now and in demand.
Gourmet or Second Kitchen
Whether they like to cook or not luxury homeowners and gourmet kitchens have a tendency to go hand in hand. Gourmet kitchens are setup with premium appliances, efficient and easy to use cooking and preparation spaces in mind. While the gourmet kitchen setup might be appealing to the professional chef many luxury homeowners opt for the gourmet kitchen in order to add to the appeal of a home that has it all. Gourmet kitchens will have oversized refrigerators, heavy-duty stoves with multiple burners, multiple ovens, warming drawers, multiple dishwashers, wine chillers and more.
In luxury homes where there is plenty of space to expand a home's footprint (suburban areas versus urban areas) many luxury homeowners are opting to have installed a second full kitchen. These kitchens are not kitchenette's but instead full size kitchens with all the space and appliances found in most normal kitchens. These kitchen's may be located close to an entertainment area on a different level so that the homeowners can entertain and dine their guests without having to move between floors. Sometimes these full kitchens are for use by guests who will be visiting. Whether the luxury homeowner will have their in-laws staying for a while, their adult children, or some other short term guests, offering the guests the use of their own kitchen can save a lot of time for the homeowners and make their guest feel more at home.
Some second full kitchens end up being outdoor kitchens where homeowners can entertain and dine while enjoying the great outdoors. These types of kitchens may feature wood burning ovens, gas grills, sinks, refrigerators, wet/dry bars and more. If a luxury home has enough outdoor space to setup a kitchen then the desire for an outdoor kitchen especially if there are other amenities like pools, basketball courts, tennis courts and more is high.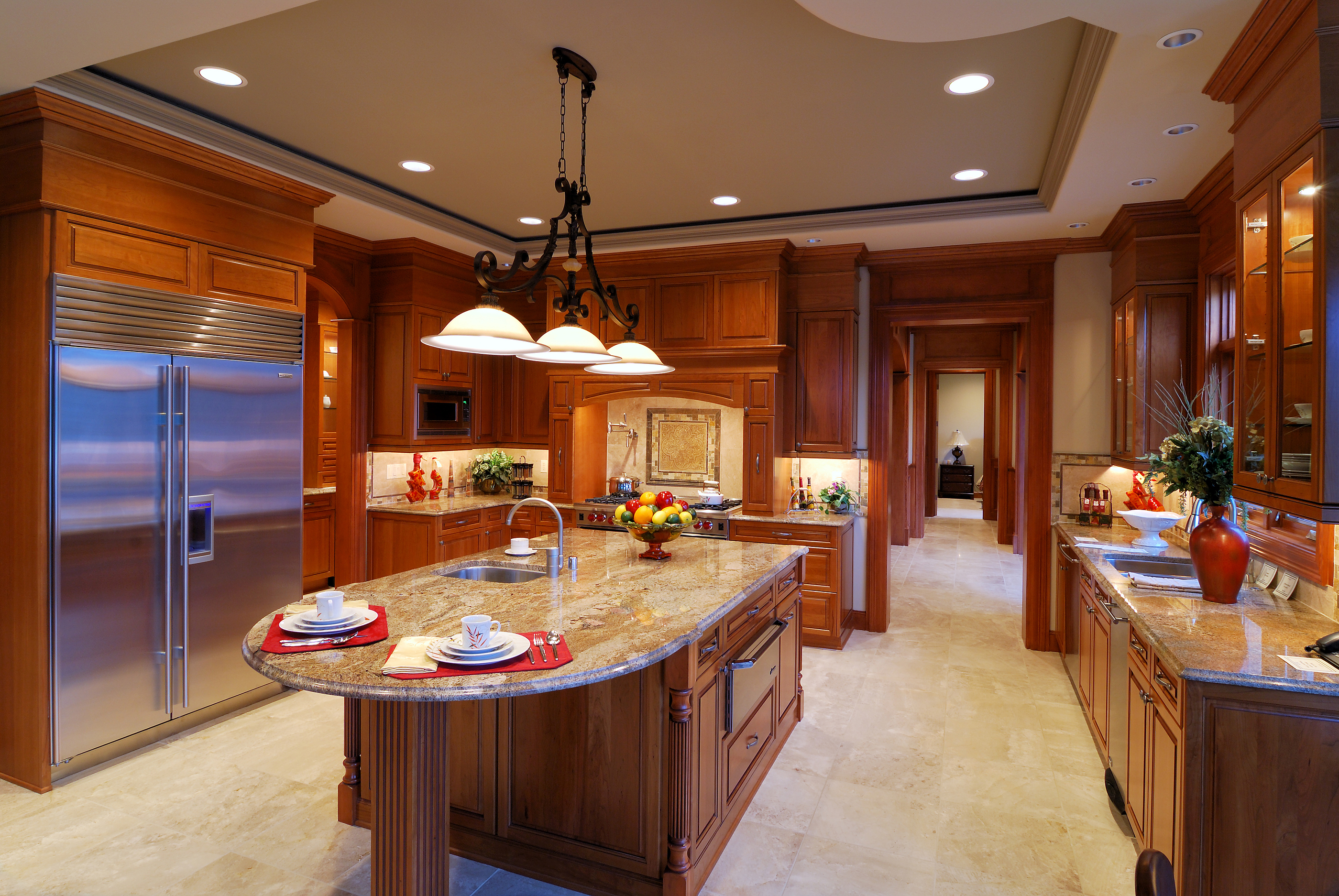 Open Floor Plans
Truly open floor plans are more than just a hole cut out of a wall to allow conversation between rooms. The true concept of an open floor plan envisions no walls between certain rooms and very little in the way of obstructions from cabinets or furniture. Not only does an open floor plan allow conversations to flow it also allows a person to freely move about the house and to see different parts of the house with little to no obstruction of view.
A majority of new construction luxury homes being built today feature one or more areas with open spaces where most of the residents spend their time in. Kitchens, family rooms, living rooms, rec rooms, game rooms, and more lend themselves to the open floor plan concept. Even in smaller luxury homes found in the city where space is at a premium the trend is towards open floor plans for the rooms where it makes sense.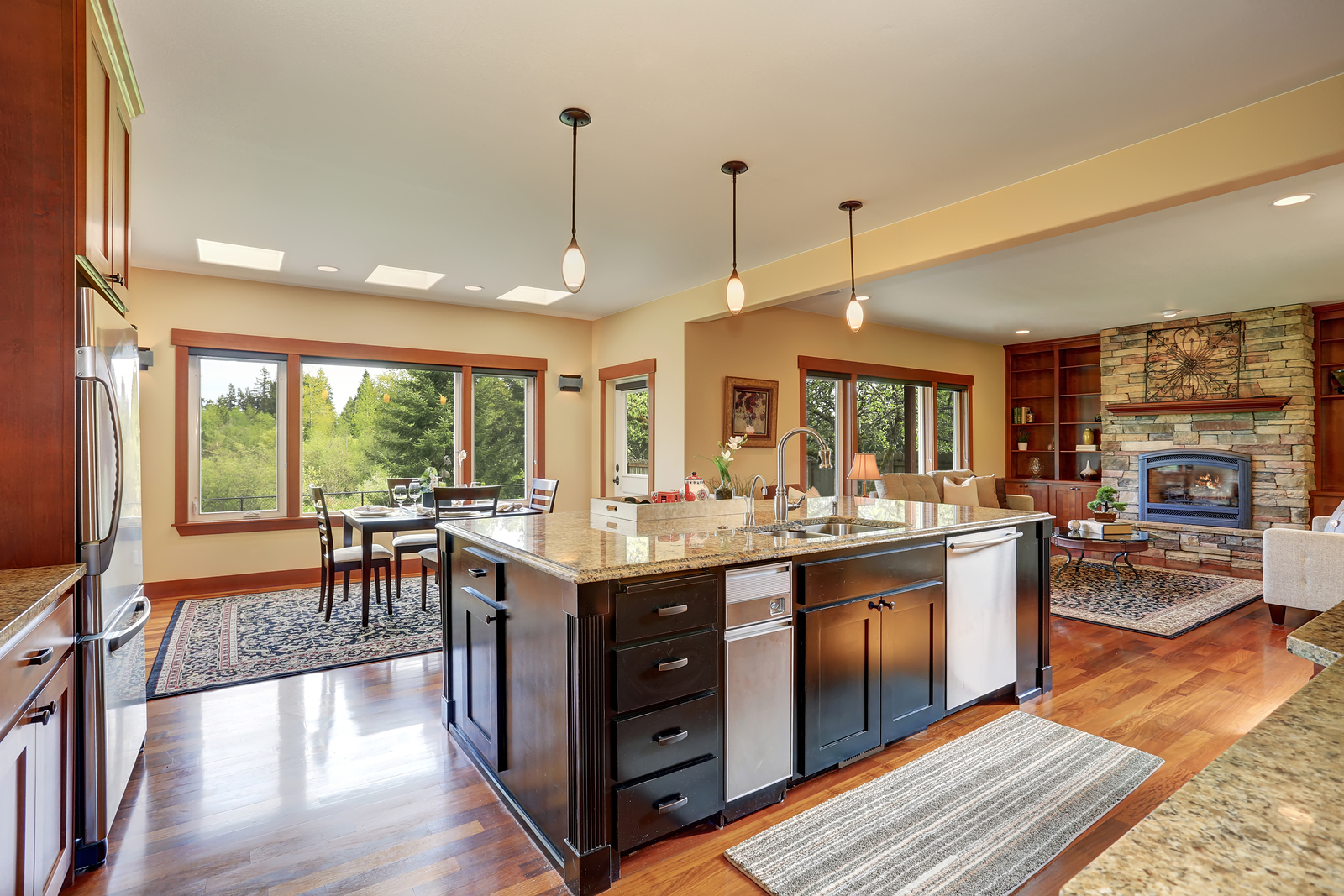 Spa Like Bathrooms
From showers that have multiple shower heads or overhead waterfall type spray to heated and jetted hot tubs a hot trend in many luxury homes is the bathroom that looks it was pulled straight out of a luxury spa. These luxury bathrooms will feature heated floors, premium fixtures, a shower for each spouse, and some will even include a wet or dry sauna or even a personal floatation tank. Even toilets can get luxury treatment with heated seats, self-cleaning functions, foot warmers, lighting to help guide you in the dark, and even Bluetooth connectivity to allow you to listen to your favorite tunes.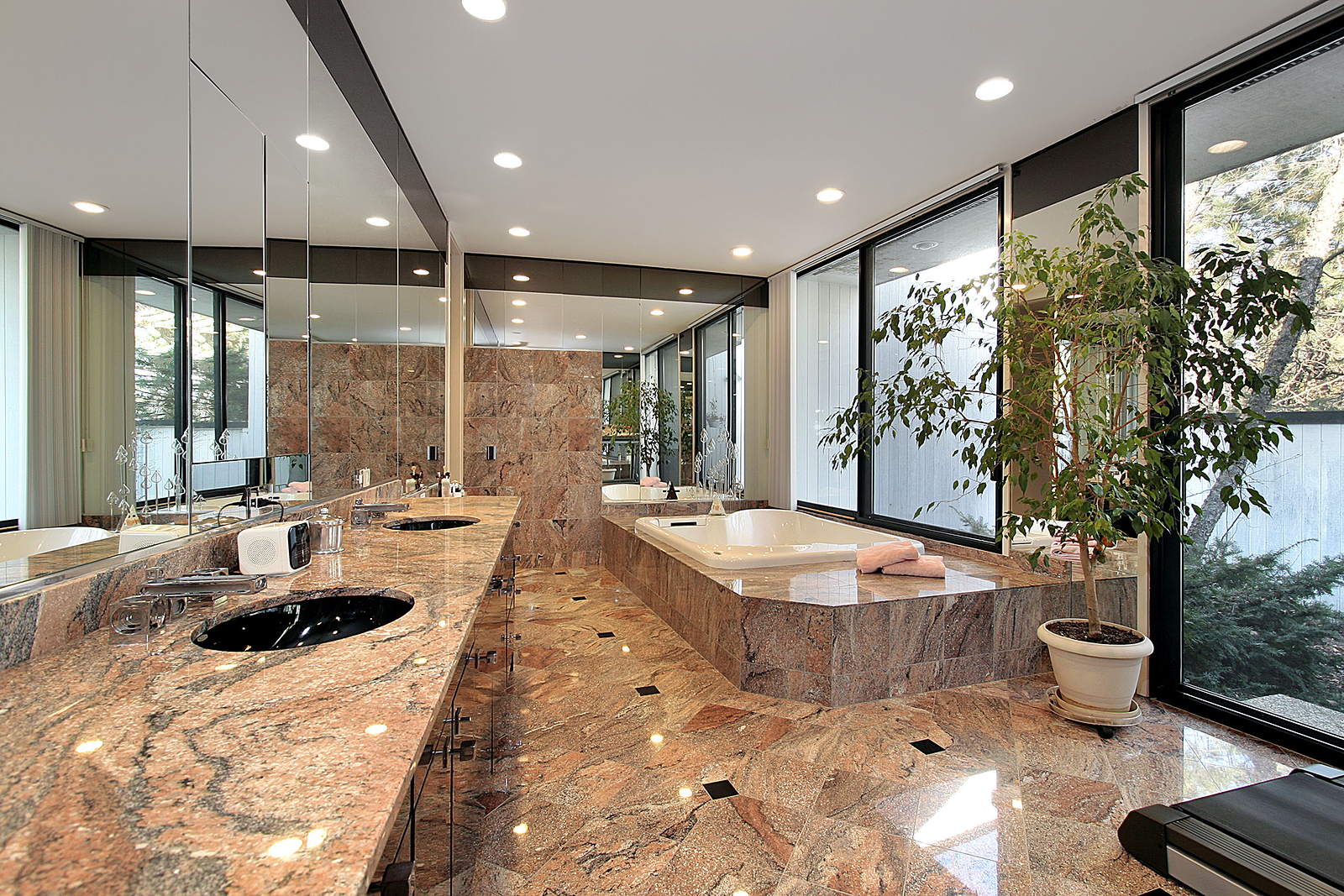 Smart Home Features
While smart home features have been around for some time (X10 and now zigbee) not many luxury homeowners were open to adopting it since it involved installation by professional technicians and only provided limited capabilities. With the rapid progress of smart phones and the creation of Amazon Alexa, Google Home and Apple HomeKit smart home features and their accessories have taken off. With a smart phone or an intelligent assistant you can control lighting, your home temperature, door locks, robotic vacuum cleaners, your garage doors, curtains/blinds, see live video of your home and more. Electronic devices like Alexa will even listen to your voice commands and allow you to control compatible smart devices without having to even touch your smart phone.
Devices like Amazon Alexa and Google Home can even read back recipes, tell you the weather, order products for you, play music, answer questions and more. Smart home features for luxury homes are a must have especially where they boost security and the convenience factor of your home. With the relatively low price of some of the smart home devices it is easy to add on many smart features throughout an entire home.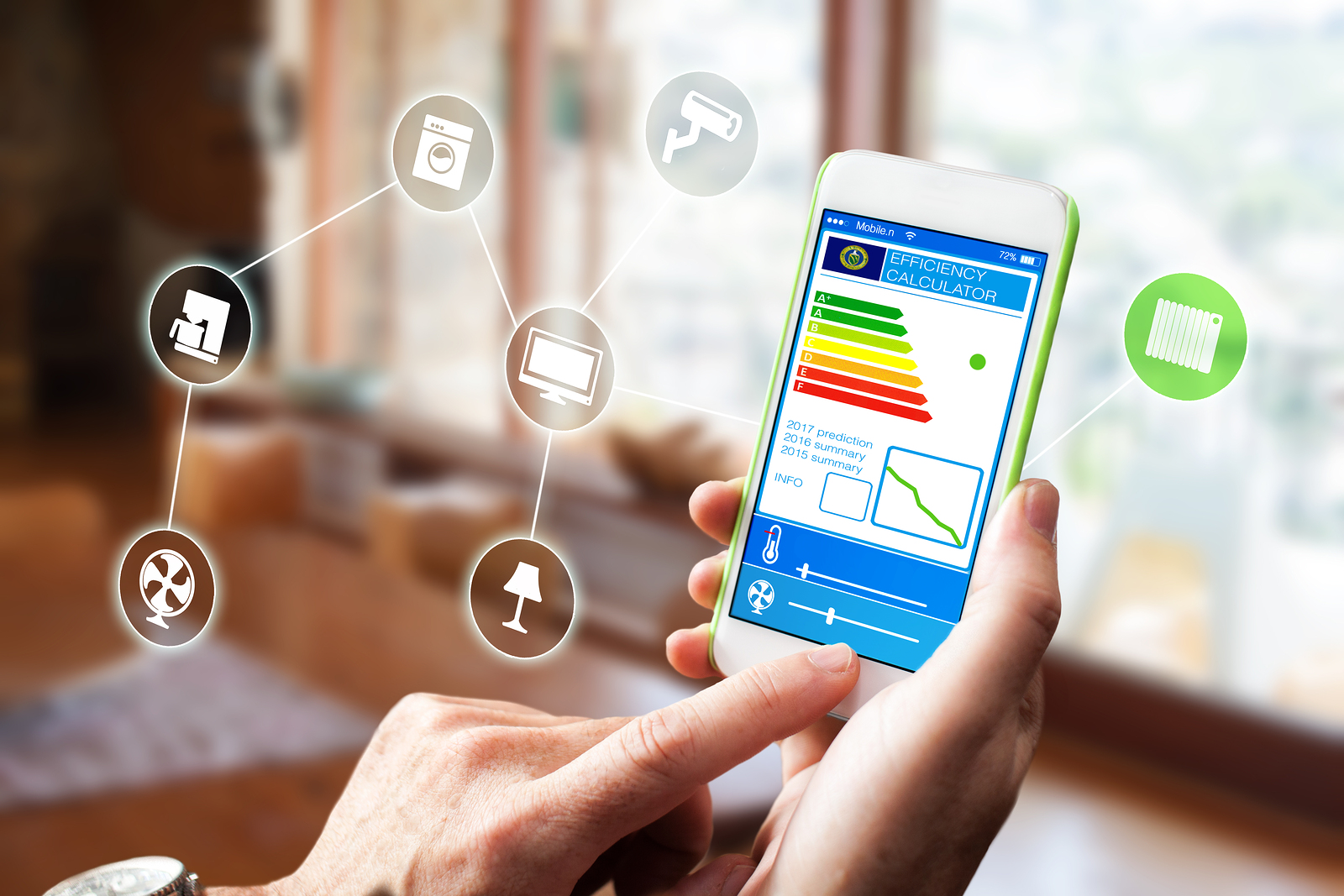 Bottom Line
Luxury homes represent the top of the line in home design and features. Many luxury homes will have features that are just starting to get mainstream notice. If you are interested in learning more about some of the features in this article be sure to check out the links below.
Additional Resources
About the author: The above article "What Are Some Trending Hot Luxury Home Features " was provided by Luxury Real Estate Specialist Paul Sian. Paul can be reached at paul@CinciNKYRealEstate.com or by phone at 513-560-8002. If you're thinking of selling or buying your investment or commercial business property I would love to share my marketing knowledge and expertise to help you. Contact me today!
I work in the following Greater Cincinnati, OH and Northern KY areas: Alexandria, Amberly, Amelia, Anderson Township, Cincinnati, Batavia, Blue Ash, Covington, Edgewood, Florence, Fort Mitchell, Fort Thomas, Hebron, Hyde Park, Indian Hill, Kenwood, Madeira, Mariemont, Milford, Montgomery, Mt. Washington, Newport, Newtown, Norwood, Taylor Mill, Terrace Park, Union Township, and Villa Hills.