Smart Devices To Help Save Energy And Money In The Home
Posted by Paul Sian on Thursday, May 9, 2019 at 7:00 AM
By Paul Sian / May 9, 2019
Comment

Smart Devices To Help Save Energy And Money
All it takes is a smart phone, a smart device and an app to take your home into the future and turn it into a smart home. Generally smart devices are devices that are connected to the internet and do more that the regular version of that device would do. A smart security system can send you active reports of changes to the system, whether someone has entered the home or the whether smart camera detected the delivery person dropping off that package you have been expecting. Smart monitoring devices can check if no one is home and adjust temperature settings accordingly to help save energy. Here are some areas of the home a homeowner can make their home smarter which can also help with the convenience factor and can help save money as well.
Whole House Smart Water Monitoring
Imagine if a device can monitor each and every faucet in the house to know how much water has been used from each? Using that information that device can give tips and insights on how to save money and save water at the same time. Imagine if that same device can also detect water leaks and also shut off the water completely in the event of a major pipe burst minimizing any potential water damage. Such a device does exist with, Moen Flo, StreamLabs, and Belkin's Phyn smart water assistant. These devices can monitor each and every water source in the house from the outdoor spigot, to toilets, showers, and sinks. That monitoring allows the homeowner to know how much water is being used and to inform them about any leaks that may be occurring. By stopping leaking faucets savings can be realized over the life of owning a home and also help prevent wasting water.
Smart Electrical Systems In The Home
Whether there is a tendency for homeowners to forget to turn off lights (or forget to turn them on when needed) there are smart switches and smart electrical outlets than can easily let homeowners know whether lights have been left on or need to be switched on. Smart switches will take the place of an existing light switch and usually connects to a home's WiFi network. From there an app on the smartphone will let the owner know what the current status of the light is. If there is a need to turn the light on or off all of that can be handled on the smartphone as well wherever there is an internet connection. Many of the smart switch apps also have built in ability to allow the scheduling of when lights should be turned on and off. The scheduling ability is helpful for those times when due to vacation there is the need to have the appearance of someone being home or just to make sure the lights are turned on when arriving back at home. Some apps work in conjunction with the smartphones GPS and allow the lights to be turned on or off when one is coming home or leaving based on a geofence setup.
A geofence is basically a geographic virtual fence around that house and when occupants leave the fence area or come into the fence area the system can perform automatic routines like turning on/off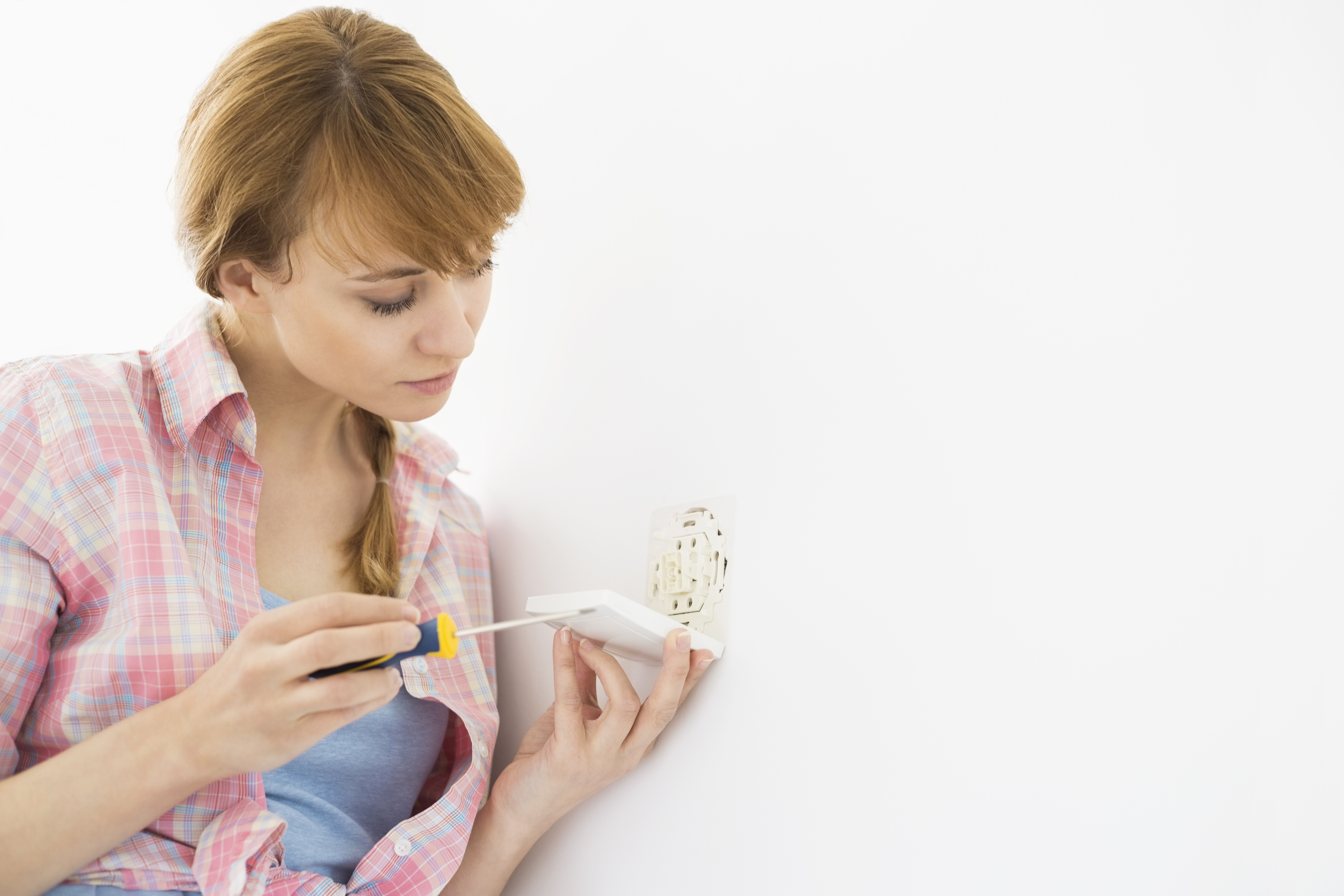 lights or adjusting the thermostat. The geofence can be set up based on app or user preferences such as when an occupant of the home is five miles away and coming home the AC should adjust to have a cooler interior or certain lights should turn on. A device that uses geofencing to make changes relies on the location data a smart phone provides to the app.
Smart plugs are another option for turning off and on lamps that are plugged into an electrical outlet. Different than a smart switch which is replaced for a regular switch, smart outlets come in two different styles. One style allows for the complete replacement of the existing outlet and may require the services of an electrician to be installed (some DIYers may be comfortable installing their own outlets and know about the safety needs involved). The other style of smart outlet is a device that simply plugs into an existing outlet and has its own receptacle. Those types require nothing more than plugging it in and setting it up with the home's Wifi network. Once setup smart outlets provide similar functionality like smart switches in that they can control the turning on and off or on a schedule for things like lamps, radios and more. Be careful though as some of these smart switches are not designed to handle high electrical loads so plugging something in like a space heater or air conditioner could result in damage to the smart outlet or worse an electrical fire. Currently each manufacturer has their own app for smart switches and smart outlets so it may be a good idea to stick with the same brand to have control of all the devices under one app.
Smart Thermostats
Smart thermostats are one of the devices that started off this current round of smart home innovations. Google Nest,the Ecobee line of smart home thermostats, and some others can quickly turn any heating and cooling system into a smart system for only $200 to $300 dollars. Smart or not the thermostat for a home's HVAC system is the main control point for heating, cooling and more. By installing a smart thermostat the home HVAC can be automatically controlled by the smart thermostat and/or also controlled by a smart phone. Forget to turn the thermostat down when leaving for work? Newer smart thermostats with occupancy sensors can automatically turn temperatures down when no one as home. As a home's occupants get closer to home, by using the geofence feature of the app on a smartphone the thermostat can automatically start to warm up or cool down the house so the occupants will be comfortable on arrival.
Many of the smart thermostats are integrated with the smart voice assistants like Amazon Alexa, Apple Siri, Google Home. The benefit is then that users can speak commands to the voice assistant such as "raise the temperature setting by two degrees" and the voice assistant can then make the according adjust to the thermostat. These smart voice assistants can also report on information such as the current internal temperature, when the last time the HVAC filter was changed and can even assist with calling in an HVAC technician for service.
Smart Window Coverings
According to the U.S. Department of Energy about 30% of a home's heat energy is lost through the windows during the colder months. During the warmer months roughly 76% of sunlight is converted into heat inside the home. As a result during the winter time and summer time having automated blinds will result in energy savings. Ideally smart blinds should be able to close during the sunny hot days to allow less heat energy to heat up a house when the occupants want it cool. In the winter months smart blinds should remain open when the sun is out and able to heat the house but when cloudy or very cold outdoors they should close in order to reduce heat loss through the windows.
Most of the current set of smart window coverings like blinds operate on a more basic level such as closing or opening at designated times or based on input by the user. So depending on the time of day a homeowner can have the blinds remain closed or open as the need may be. On some of those cold
days where it is sunny out it becomes a task for the user to determine whether to open the blinds to allow the sun in or keep them closed. As blinds become more integrated with the smart home and smart digital assistants like Alexa and Siri it should be possible for those smart digital assistants to control the opening and closing of window coverings based on inside and outside temperatures. Some smart blinds are also controlled differently allowing them to be controlled individually or by groups depending on the system used. To learn more about smart blinds check out these offerings by MySmartBlinds, Ikea and more.
Bottom Line
Smart homes can help homeowners both save money and energy in the home. Many smart devices allow homes to become greener as well since they allow energy savings that may not otherwise be had. Cost effective smart home devices can also make home life more convenient for all its residents.
Additonal Resources
About the author: The above article "Smart Devices To Help Save Energy And Money In The Home" was provided by Paul Sian. Paul can be reached at paul@CinciNKYRealEstate.com or by phone at 513-560-8002. If you're thinking of selling or buying your investment or commercial business property I would love to share my marketing knowledge and expertise to help you. Contact me today!
I service the following Greater Cincinnati, OH and Northern KY areas: Alexandria, Amberly, Amelia, Anderson Township, Cincinnati, Batavia, Blue Ash, Covington, Edgewood, Florence, Fort Mitchell, Fort Thomas, Hebron, Hyde Park, Indian Hill, Kenwood, Madeira, Mariemont, Milford, Montgomery, Mt. Washington, Newport, Newtown, Norwood, Taylor Mill, Terrace Park, Union Township, and Villa Hills.