Real Estate Scams To Watch Out For
Posted by Paul Sian on Thursday, October 6, 2016 at 7:00 AM
By Paul Sian / October 6, 2016
Comment

Real Estate Scams To Watch Out For
Anytime you find an activity with money involved you are sure to find scam artists who are more than ready to part you with your hard earned money. Real estate is no different and there are many scams that individuals with less than honest intentions will try. By being aware of these common real estate scams you can make sure you do not become a victim yourself and if something does seem too good to be true have an idea of where you can dig for more information.
Real Estate Scams That Target Renters
This particular scam targets both home sellers and people looking for a place to rent. The scam artist in this scam will take pictures of a home for sale from a real estate website and then post those pictures on rental sites hoping to draw in potential renters. Part of the scam also involves not actually getting you into the rental home by saying it is occupied so only pictures will be used. Even if you are allowed into the rental home you still need to be careful as there are some rental companies that let anyone in through a home unattended so long as they provide some identification and a credit card. The scammers can get in using stolen identities or using your own information you gave them on an application.
Usually but not always the rental amount they advertise the place at seems too good to be true. For example you might see a rental advertisement showing a nice home for rent for only $700.00 where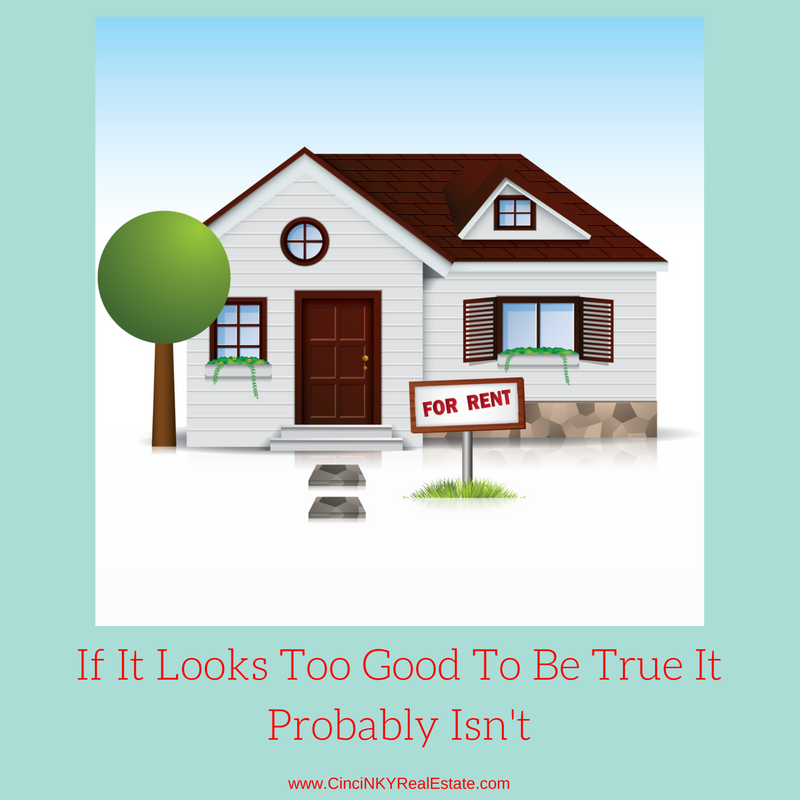 normally such a home would rent for $1200. The price difference for rent rates should set off alarm bells in your mind but the rental scammer is hoping to con you by urging you to be quick since a house renting at that rate won't last long.
The initial parts of the scam may even make the whole thing seem legitimate. The rent scam artist will usually have an official looking application, request money for credit/background checks and may even ask for references. If the scam artist is interested in a quick dollar then they will just take your rental money and run. Others may use the information you provided on the rental application to steal your identity as well.
The final part of this scam usually plays out when the scam artist tells you that you have been approved and that you are required to provide money to include first month's rent plus a security deposit. The scam artist may ask for cash or money order and will even go as far as giving you a key to the rental home. Unfortunately for you and for others who fall victim to the scam you and a number of other people will show up at the same property with fake keys. Meanwhile the home seller is just as confused as the victims as to why so many people are showing up saying they are there to move into a home that is really for sale.
The best ways to avoid this scam is to follow the old adage if it looks too good to be true it usually is. Before giving out your information or money on rental applications that may be fake attempt to verify that the home is for rent and not for sale. A simple google search of the address may show you if the home is for sale instead of for rent from the results that pop up as real estate listings are usually the top result for home address when they are on sale. You need to view the inside of the home too to see if the person claiming to offer it for rent can actually get you inside. Given enough notice a property owner or landlord can get you inside a rental home to see it, if it is truly for rent. If the scammer won't let you in and keeps making excuses it may not hurt to knock on the door and ask whoever is living there if the home is indeed for rent and soon to be vacant.
Other ideas to avoid this scam include checking county records to see who owns the property. If you see a company LLC name as the owner of the property it is more likely to be a rental unit. Above all don't be pressured to rush into providing an application due to the rent being low and time being of the essence. These types of scams rely on everything moving very rapidly so that the scam artists can take the money and run before they are caught.
Mortgage Finance Scams
These types of mortgage finance scams can affect both home buyers looking to get a mortgage to buy a home and homeowners who may be looking to refinance their home loan. Often times these fake mortgage lenders advertise on social media groups, Craigslist and other online venues offering to help people with no credit or low credit scores to get a loan. Part of their scam may involve charging application fees for borrowers when they submit their application. The application is also designed to extract as much personal information as possible for use in identity theft. After paying an application fee and providing your personal information you may be asked to pay more fees to cover random things but the end result is the same, you will not get any money to buy a home.
The best way to avoid this type of scam is to only use licensed mortgage loan providers. Most states
require mortgage providers to register with the Nationwide Mortgage Licensing System (NMLS) and most mortgage providers as a result will have an NMLS number to show they are in fact legitimate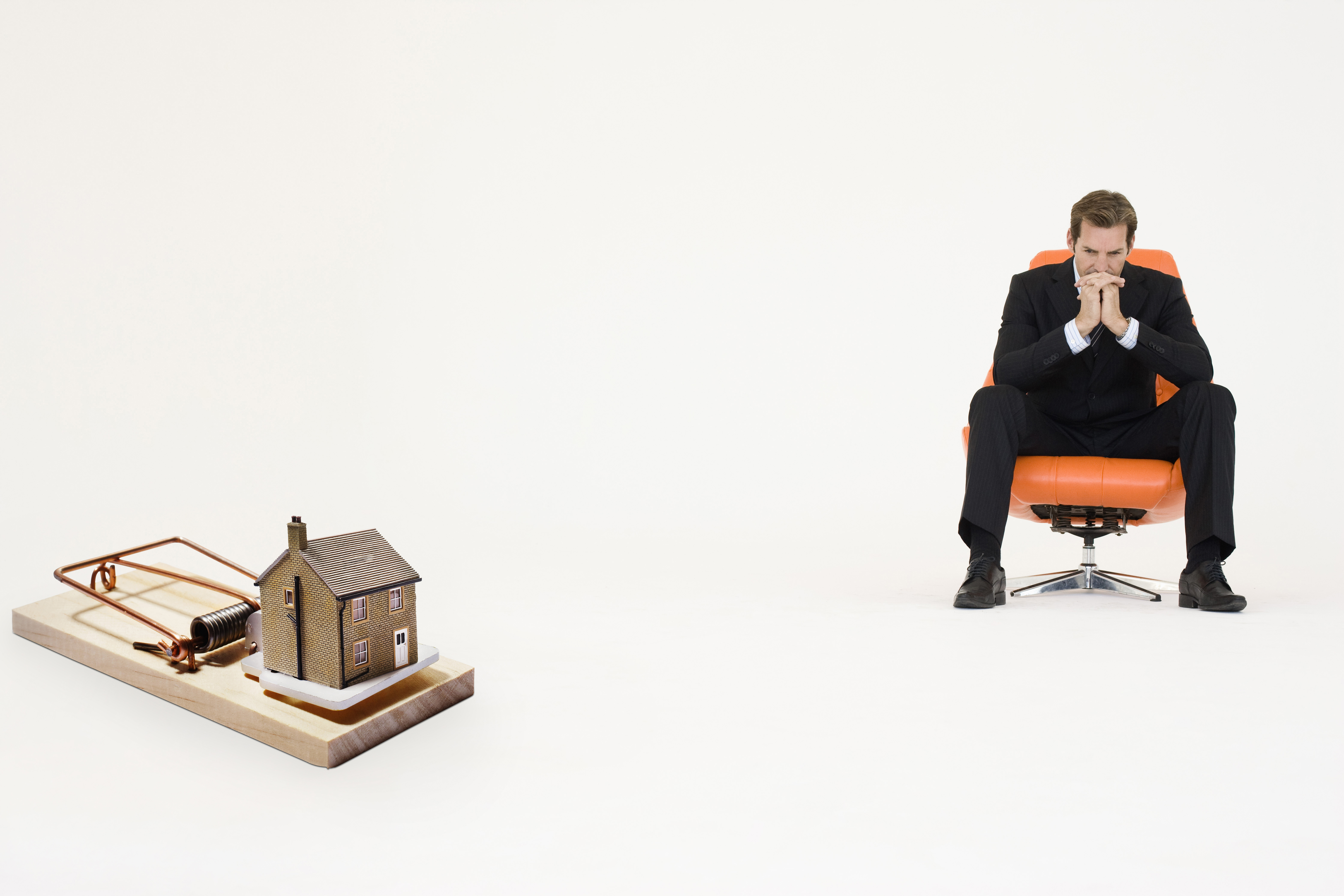 licensed mortgage providers. You can verify if a mortgage provider is licensed by checking http://www.nmlsconsumeraccess.org/. If a person trying to help you get a mortgage loan or refinance is not listed on NMLS website or does not work for a company listed with that website you should look elsewhere for help.
Additional signs of a mortgage scam include a contact email address from a Gmail, AOL, Yahoo, Hotmail or some other publically available account. Most legitimate mortgage providers will have their company name in their email address. Better options to get a mortgage include talking to local bank and mortgage providers, getting recommendations from family, friends, and your Realtor to make sure you only work with legitimate lenders.
We Buy Homes For Cash Scams
There are a few legitimate companies out there who will buy your home for cash regardless of its condition. While you will be better off working with a Realtor to do some minor preparation and put your home on the market these cash for homes companies do offer you a quick way out of your home. As a result of their success scam artists also have decided to take advantage of homeowners desperate to sell their home. Sometimes these scam companies will charge application fees or some other type of fee and then do nothing to buy your home. Anytime someone is asking you for money up front to buy your home you should think twice about giving them any money.
Other cash for homes scams may involve having you transfer the deed for your home to the buyer yet leaving all the mortgage debt or any other tax debt still in the seller's name. End result is you may have gotten some cash for your home but the debt collectors will still come looking to you to pay off any debts that still exist on the property. Best bet to avoid these types of scams is to hire an attorney to review any and all contracts you have to sign before you sign the documents. If the buyers don't want you to bring in an attorney or just want things done as fast as possible then you may want to reconsider.
Scams That Target Home Buyers, Home Sellers and Realtors
This scam in particular is more devious in that it relies on hacking into emails that are sent from the home seller, home buyer, title company or Realtor and using that information against the seller or buyer. Once hackers have access to some information regarding a real estate transaction they will usually send fake emails disguised like official email from the title company, Realtor, or mortgage company that state the buyer, seller or Realtor will need to have money wired as part of the transaction for selling a home. In many cases wire transfers are rarely done during a real estate closing and instead title companies prefer the parties to bring a certified check. If sent by wire the money is wired to a foreign account and never to be seen again by anyone.
If you do get an email requesting you wire money as part of a real estate transaction always call to confirm that the email was in fact sent by some who needs to have the money to help close the deal. As mentioned above it is rare for the sale of a home to involve the use of wire transfer for money. If you do get directions or requests for wire transferring of money talk to your real estate agent, closing processor and/or mortgage loan officer to confirm if the request is a real one and not a scam designed to cheat you out of your money.
Bottom Line
Additional Resources
Real Estate Scam Warning by Joe Manausa
Closing Scam at Realtor.org
Pros and Cons Of House Flipping Companies by Bill Gassett
About the author: The above article "Real Estate Scams To Avoid!" was provided by Paul Sian. Paul can be reached at paul@CinciNKYRealEstate.com or by phone at 513-560-8002. If you're thinking of selling or buying your investment or commercial business property I would love to share my marketing knowledge and expertise to help you. Contact me today!
I work in the following Greater Cincinnati, OH and Northern KY areas: Alexandria, Amberly, Amelia, Anderson Township, Cincinnati, Batavia, Blue Ash, Covington, Edgewood, Florence, Fort Mitchell, Fort Thomas, Hebron, Hyde Park, Indian Hill, Kenwood, Madeira, Mariemont, Milford, Montgomery, Mt. Washington, Newport, Newtown, Norwood, Taylor Mill, Terrace Park, Union Township, and Villa Hills.