Preparing Your Home To Sell
Posted by Paul Sian on Friday, January 23, 2015 at 3:31 PM
By Paul Sian / January 23, 2015
Comment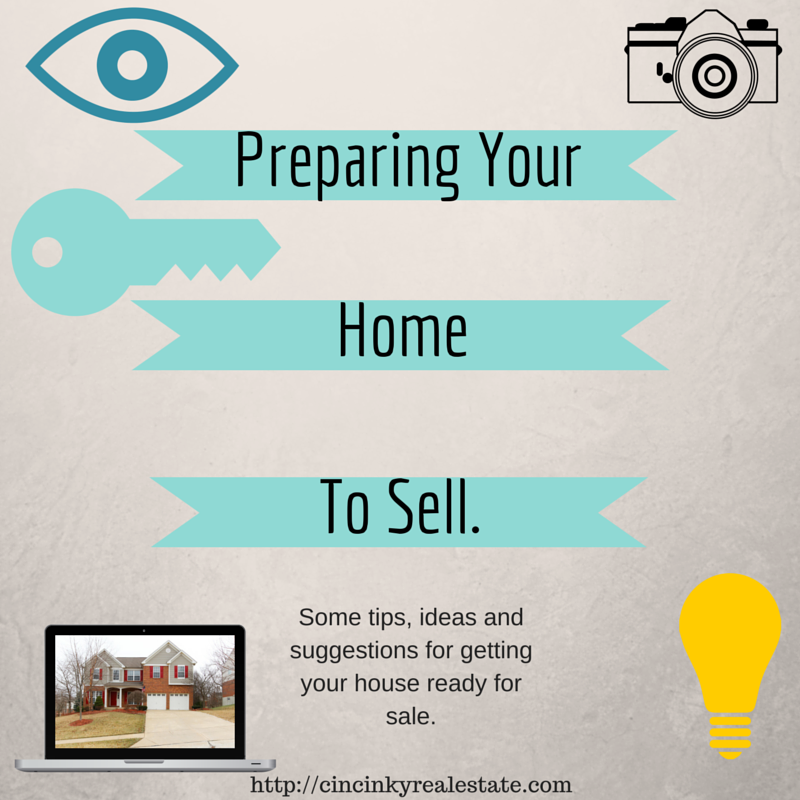 There are many ways you can prepare your home to sell. Some ways involve large out of pocket expenditures and talking to many different contractors to handle it details. Other ways involve the 100% do it yourself (DIY) method, which while not that costly can quickly become backbreaking work and may not be recommended depending on a person's skill level. Regardless the end result is that preparing your home to sell is something you should do if you want to sell your home in the least amount of time and for the best price. Failing to do some of the suggested steps may result in you coming back here to read my article entitled "6 Reasons Why Your Home Did Not Sell".
The basic fact is hard to refute, an unkempt dirty home will sell for less than an equivalent home that has been maintained, decluttered and cleaned up from top to bottom. Often times people are looking for a home that they can move into without having to put much effort into making it livable for them. Yes there are the occasional investor type or handyperson who wants to save money and buy a fixer upper. The key there being that they want to save money, which means the sellers will get less money for their fixer upper home.
Let's start with some basics:
Paint
A freshly painted house carries its power forward many times. The freshly painted house shows well in person to potential buyers who see one less thing for them to do when they move in. Fresh paint also translates well in this age of high definition video and digital pictures since the flaws left on the wall from kids crayons or pet habits (those with dogs who enjoy chewing wood know what I am talking about) have been cleaned or repaired and then painted over. If the flaws are left as is then the use of video and quality photography becomes a hindrance more than a help and with close to 90% of buyers starting their home shopping online you don't want to be the one trying to cover flaws with poor visuals on the Internet. Planning on doing the painting yourself? Make sure you pick neutral colors and to paint it like a pro otherwise the money you saved by not hiring a professional painter could cost you in terms of your selling price.
Flooring
Now that you tackled the paint it is time to consider your flooring. For your carpets, will a good steam cleaning suffice or have the years of foot traffic, pets and kid spills taken their toll? If a good steam cleaning will not do for your carpet then you should consider replacing it. While it is an inconvenience to have your carpet replaced while still living in your house it will help better sell your house to potential buyers. Also the fact of having the carpet installed may force you to reduce clutter and remove unwanted items that get in the way during the installation. The overall benefit comes from a house showing better due to new carpet and having less clutter.
Another alternative to replacing carpet while living in the house is arranging to have new carpet installed before the buyers move in. How does that work? Many carpet companies have sales specialists whose primary purpose is to assist Realtors in providing carpet to new buyers as part of a purchase incentive package. Basically in this scenario you as the home seller approve a budget for new carpet and based on that the carpet retailer will provide a number of different carpet samples to show to potential buyers. The buyers will know they are getting new carpet installed prior to them moving in as part of the house transaction. This might be a good middle ground for sellers who have okay carpet that they know needs to be replaced but don't want to deal with the headache of installing new carpet now. But if your carpet is too far gone and it shows, this could backfire since potential buyers may raise a red flag that if the carpet is in such poor shape what else is wrong with the house.
Other types of flooring come into play as well. Are your flooring (also bath and shower wall) tiles dirty or cracked? Cracked tiles are more challenging to deal with especially if you have a tile that is no longer made and don't have any spares to replace the cracked tiles with. Either way a tile installation expert may be needed to replace the cracked tiles so as to improve the look of your house. An easier fix is cleaning up dirty or moldy grout that is between your tiles. There are a number of products/solutions out there that will allow you to clean the grout to help make it look like new again. If none of those products can clean your grout then you might want to call up a professional grout cleaning service or talk to your tile installer about removing and putting in new grout. The removing and installation of new grout could even allow you to modestly change the look of the bathroom by using a different color grout than you originally had.
The last type of flooring I will address is your hardwood floors. Unless you regularly polish your hardwood it has a tendency to lose its shine. If there was ever heavy movement of furniture or appliances over your hardwood flooring then chances are your also have dings and dents in the hardwood. To take care of the lack of shine and dents in your hardwood it is best to have it sanded and refinished to bring back that shine. Not only can you bring back the shine but if you wanted to you could also change the color of the stain you used for the hardwood, giving your a fresh modern update that can help sell your house. To get a better idea on the process of refinishing your hardwood floor here is an excellent blog article and video by The Flooring Girl entitled "Refinishing hardwood floors-how long does it take". Also if you want to know about some color trends for hardwood floor The Flooring Girl covers "10 Hardwood flooring trends for 2015".
Mechanical Systems
When was the last time you had your HVAC system tuned up? Do you regularly replace your HVAC air filters and humidifier pads? Is your garage door operating smoothly or does it sound more like a screeching unoiled machine? Regular HVAC tune-ups and inspections are vital to your homes health since it ensures everything is running smoothly and there is no harmful gases leaking into your house. Yes you read that right, sometimes HVAC systems that have degraded so far can start leaking carbon monoxide into the house through your ventilation system. In fact one of the houses I helped my buyers purchase had its HVAC system turned off by the Home Warranty Company due to extensive rust inside the HVAC discovered by my buyers home inspector. The rusting and decay was so severe they worried for the safety for the homeowners. So make sure to have your HVAC and garage inspected and maintained on a regular basis. Not only can this help close a sale but it might prevent someone from suffering harm.
Landscaping aka Curb Appeal
While they say you should not judge a book by it's cover it does not mean people follow that advice. Especially when it comes to buying a home lack of curb appeal is one of the items higher on the list of buyer turn-offs that prevent them from considering a home. While your home may be a knockout on the inside, if the outside is lacking you will lose some potential buyers. When trying to sell your house the more buyers the merrier, or the merrier you will be when you get a price you were looking for. So to help draw those buyers in I suggest reading this post from Listoic entited "17 Easy and Cheap Curb Appeal Ideas Anyone Can Do" and implementing some ideas to boost your home's curb appeal.
Last but not least
Okay, you've boosted your curb appeal, polished your floors until you could see your reflection and tuned up your HVAC system to hyper efficiency, is that it? Obviously not. The last thing is to make sure the home is clean from top to bottom. Vacuum those floors, scrub the cabinets, clean the bathrooms, laundry room, kitchen and whatever other type of room you have until they can't be cleaned any more.
Are these a bit extreme? You could argue they could be taken to extremes, but my point was to show you the best tips. Tips that if you did every one of them you probably could start your own business for other people to hire you to do it for them. If you can't do all of them pick out the tips that work best for you and your home. Then use those areas you did work on to highlight your home.