Where To Get Great Ice Cream In Cincinnati?
Posted by Paul Sian on Thursday, July 30, 2020 at 12:00 PM
By Paul Sian / July 30, 2020
Comment
Where To Get Great Ice Cream In Cincinnati?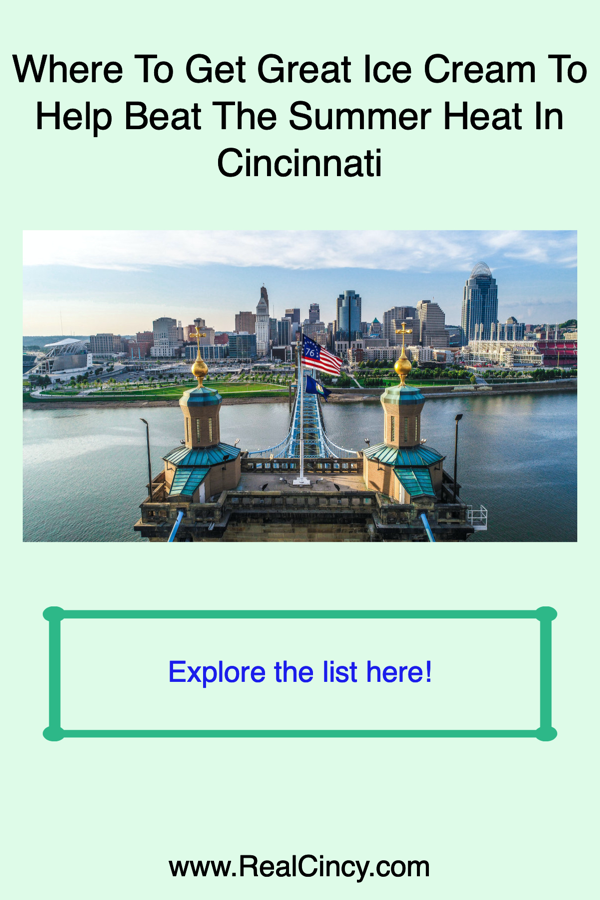 Cincinnati summers can get quite hot and humid and what better way to beat the heat than with a nice cool treat. Whether your craving is for a hot fudge sundae or just a scoop of your favorite ice cream flavor Cincinnati and Northern Kentucky have some unique places for you to try. Check out some of the places on the list below and let us know what you think is your favorite local Cincinnati ice cream place.
Graeter's Ice Cream
Graeter's Ice Cream got it's start in 1870! That's a long time to be making ice cream, but you know they have perfected their craft by being around that long. Known around the U.S. due to their flavor Graeter's has been noted in magazines such as Forbes, Vanity Fair, Saveur and more.
Aglamesis Brothers
Opening up their first ice cream parlor in 1908 the Aglamesis Brothers serving up their hand churned ice cream to their customers. In 1913 they opened their second store in Oakley. Their ice cream has been mentioned in the New York Times, on The History Channel, Food Network and Bon Apetite magazine.
Mount Washington Creamy Whip
Serving up tasty soft serve ice cream and other baked goods Mount Washington Creamy Whip has been around for quite some time.
Simply Rolled Ice Cream
With its origins from Thailand (also know as stir fried ice cream) rolled ice cream is exactly that. Rolls of ice cream mixed with the ingredients you ask for and rolled into ice cream rolls. Simply Rolled Ice Cream has a number of different flavors and combinations to try from as their menu shows.
Dojo Gelato
Dojo Gelato's philosophy is simple. Serving up the best handcrafting gelati and sorbetti making sure not to sacrifice quality over quantity. Who can argue with that?
Hello Honey
Ice cream made from scratch using the freshest ingredients? Count us in for some ice cream from Hello Honey.
Putz's Creamy Whip
Started in 1938 and now currently located in the Mount Airy neighborhood of Cincinnati, Putz's Creamy Whip features ice cream cones, shakes, sodas, sundaes, floats and more to satisfy anyone's sweet tooth.
View this post on Instagram
Buzzed Bull Creamery
What could be better than ice cream? Alcohol infused ice cream! Buzzed Bull Creamery uses liquid nitrogen to infuse alcohol into their ice creams and milk shakes. Available in both alcohol and non-alcohol infused versions for the kiddos and those not wanting alcohol.
BOTTOM LINE
Which on the list have you tried before? Which ones are next on your list to try? Have any other suggestions of great ice cream places in Cincinnati? Mention it in the comments below.
About the author: The above article "Where To Get Great Ice Cream In Cincinnati?" was provided by Luxury Real Estate Specialist Paul Sian. Paul can be reached at paul@CinciNKYRealEstate.com or by phone at 513-560-8002. If you're thinking of selling or buying your investment or commercial business property I would love to share my marketing knowledge and expertise to help you. Contact me today!
I work in the following Greater Cincinnati, OH and Northern KY areas: Alexandria, Amberly, Amelia, Anderson Township, Cincinnati, Batavia, Blue Ash, Covington, Edgewood, Florence, Fort Mitchell, Fort Thomas, Hebron, Hyde Park, Indian Hill, Kenwood, Madeira, Mariemont, Milford, Montgomery, Mt. Adams, Mt. Washington, Newport, Newtown, Norwood, Taylor Mill, Terrace Park, Union Township, and Villa Hills.