Podcast #7 Topic: Home Staging And Selling Your Home
Posted by Paul Sian on Thursday, December 26, 2019 at 7:00 AM
By Paul Sian / December 26, 2019
Comment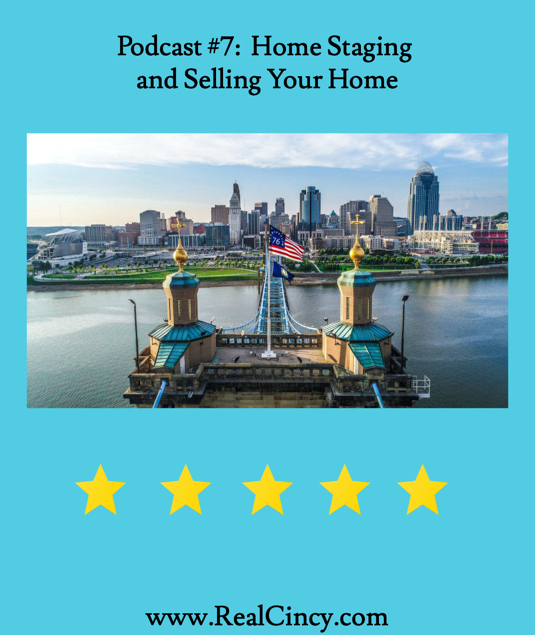 For this podcast Home Staging And Selling Your Home I sat down with Jo Potvin, Owner of Design To Market Home Staging. During our conversation we discussed home staging, quick staging tips, the benefits of home staging and more. This podcast is helpful for those about to sell a home who are wanting to learn about how to best position their home to sell. The podcast was named one of the Top 5 Podcasts For Home Buyers by Investopedia.
I hope you enjoy the podcast and find it informative. Please also consider sharing with those who may find it useful.
Listen via YouTube:
You can connect with Jo Potvin on Facebook,
You can connect with me on Facebook, Pinterest, Twitter, Google+, LinkedIn, and Instagram.
About the author: The above Podcast "Podcast #7 Topic: Home Staging And Selling Your Home" was provided by Paul Sian. Paul can be reached at paul.sian@herrealtors.com or by phone at 513-560-8002. With over 10+ years experience, if you're thinking of selling or buying, I would love to share my marketing knowledge and expertise.
I service the following Greater Cincinnati, OH and Northern KY areas: Alexandria, Amberly, Amelia, Anderson Township, Cincinnati, Batavia, Blue Ash, Covington, Edgewood, Florence, Fort Mitchell, Fort Thomas, Hebron, Hyde Park, Indian Hill, Kenwood, Madeira, Mariemont, Milford, Montgomery, Mt. Washington, Newport, Newtown, Norwood, Taylor Mill, Terrace Park, Union Township, and Villa Hills.
Transcript
Paul: Hello, everybody, my name is Paul Sian, Realtor with United Real Estate Home Connections licensed in the state of Ohio and Kentucky. Welcome, today and thanks to my guest, Jo Potvin, owner of Design to Market for being on my podcast today. How are you doing today, Jo?
Jo: Oh, great. Thank you.
Paul: Thanks for being on the podcast. So, why don't we get started and why don't you tell us about yourself, your background, your company, what do you do?
Jo: Sure. I own Design to Market Home Staging, a Cincinnati home staging company. I started that in 2004, and since the inception of the company, we've staged and worked in approximately 9,000 different homes. My background is marketing and I came to the realization in the 2004 timeframe that as HGTV started to have a strong presence in the market, buyers were starting at the same time to have strong expectations when they started to look at houses. And so I started Design to Market at that time, we were newer in the industry to see professional home staging as an office offering for realtors to bring to their clients. Since time beginning, realtors have been offering to help their homeowners and sellers prepare their home for the market. But the need for specialization has really driven that need for professional home staging. And we have been working with clients in a variety of different ways since that time to help them make sure that they're putting on the market the best product they can to get the best return for the investment they're making. Our company, Design to Market, we have a team of designers that goes out and works with individuals to help them out They're preparing their homes for the real estate market.
Paul: Okay. I'm sure a lot of people don't know what home staging really is. Can you tell us what that means, and how does it work?
Jo: So, when you look at home staging, it's the space, essentially where interior design needs retail merchandising. And that is to say that what our goal is to go into a home and help a seller prepare their home so that the next 10 people that come in their home with the principle of broad appeal, can look at this project, can look at the home, knowing that it could fit the style with which they would live in the home. So, neutral colors, current tones, current lighting, those kind of things that make a buyer feel that a home is ready to move in with the balance being that the seller not spend too much money in making the decision for the investment that they want to make in preparing their home.
Paul: Okay, so this is not like a total revamp of the house, this is more just shifting furniture, maybe just changing paint colors.
Jo: Yeah, and it depends. In a lot of cases, you'll have homeowners who have really stayed current and kept their home in a nice condition. Others have a little bit more of a project on their hands because people are looking at not only the design decisions of current colors, current metal finishes, but also basic repairs. A common thing we see, for example, is the caulk in bathtubs. When you go into a bathtub that looks like it's got mold or mildew, and what we believe that a buyer translates that to is this is something that's easy to maintain, what have they not taken care of? So, the scope of jobs is as individual as any given home situation is that it just depends on price point, geography, amount of work that's been done. There are a lot of variables that go into this.
Paul: So, what are some common things that you see with clients when you go to their places, their homes?
Jo: Well, just maybe to step back a bit, we work in two really different environments. One is what we would call owner-occupied, homes that people are living in, that we go to and see their furnishings the home itself. The other end of the spectrum are vacant homes and those vacant homes can be an individual homeowner that moved out, it can be an investor, it can be a builder. So, when I'm going to answer this question, now, I'm going to speak to the owner-occupied situation, where we go to a home and someone's living in their home. And the process of staging is never a comment on how a person chooses to live in the spaces in their home, but it's looking again at that broad appeal. When 10 people walk in that home, will eight of them see the floor plan and understand it for the way it's presented? Some of the common things that we see that are important in the home staging process is I would say almost without exception wallpaper should be removed from a home that you're going to sell.
What's important then is to make sure that if you are going to remove wallpaper that you have good assistance on choosing colors. It used to be in the old days, people would say just "Paint everything white, it's crisp and clean." People are now looking at staying on trend with what color tones. Like right now for example, greys and beiges, grey/beige and it's actually greige. That's a common platform for color; blues, subtle blues are popular. Five to seven years ago in the Cincinnati marketplace, red was a very popular color. A red dining room, a red kitchen. Right now that can date a house a little bit, so making sure the paint on the walls is a current color is important. Another thing is metal finishes. Brass that's really taken a backseat to brushed nickel and oil rubbed bronze. Now, there is a new brass that's coming, it's not so strong yet in the Cincinnati marketplace. But in general, your safest today if your light fixtures or your hardware on cabinets is brushed nickel or even oil rubbed bronze.
Something else is that the trend and design has gone away from traditional to a more clean line look. So, if you think in the sense of the scope of retailers, on one end of the spectrum, you have IKEA, on the other end of the spectrum, you have a traditional home. A lot of buyers are in the kind of realm of pottery barn and Crate and Barrel, kind of a clean line. Simple. Not a lot of items on furniture surfaces, very clean line presentation. Another category that we look at is window treatments. Curtains in a selling environment can be challenging. Window treatments such as pleated shades and wood blinds can add value, but curtains that set a definite style like valances and decorative window treatments, it's a good idea to have those removed as well.
Paul: Okay. And what sort of benefits can homeowners realize from the staging services? I mean, is there, you know, do you have any studies that you've seen that helps them get a better, more offers and get a better price?
Jo: Yes, a national statistic that I have seen was, and I believe this number to be true. A study was done, where they compared a large population of homes ranging from 200,000 to almost a million dollars. And they compare the staged to the unstaged properties, and those that were staged were on the market 50% fewer days and the sale price was 6.3% higher in terms of the average sale over asking. So, the goal with home staging is to minimize days on the market and thus, most likely minimize the need to do price drops and to get more competitive on your pricing. So, the goal is to make decisions on the money that you spend with staging that lets you get a positive return. And the return can be a financial return, it can be a faster sale; there's a lot of benefits to making the right decision when you do home staging.
Paul: Yeah, it seems like the return on investment here can be pretty great depending on the condition of the home. If you're already out of date or out of style then home staging might be quite beneficial to some. It'll help it move quicker and sell for a better price.
Jo: Well, one thing that I think is a good way to visualize this from the buyer's mind is you walk into a home that has wallpaper in four rooms. It's hard for the average homeowner in their mind to know what it's going to cost to remedy that. So, what your buyer potentially could do is ballpark the cost that they think it's going to be. And in general, I would guesstimate that it's going to be two to three times reality. And then what they're going to do is think about the, quote, pain and suffering. And they're going to reduce the offer by the amount of the extra work. So, if you as the seller can go out and be effective in getting quotes to do that kind of work, it's off the table, and you can make your home appear more move-in ready, by doing some of the simple projects that a buyer may not want to take on.
Paul: And that's a key with a lot of home sales these days is buyers want a home that's ready to move in. They're not you know, there are those discount buyers and they're looking for some different type of deal. But most buyers want to go into a home, move into it, move their furniture and be set for a while.
Jo: Yeah, in our experience, it's all demographics. You may be selling a home that would be attractive to a first time home buyer, you may be selling a home to an empty nester that's downsizing; people in general unless they're investors or someone like you're saying a discount buyer, people don't want to buy a project. They want to move in, unpack their boxes, and have their friends over. So, by being able to put yourself in that light, and especially with the competitiveness of the market, when you look in, say a geography that you may live in at a certain part of town, it's your price point. And you look at the listings that you're up against, you need to fare well on that spectrum, versus what your competitors are offering because you're going to probably at best get a lowball offer if you're not competing with the perception that your home is really move-in ready.
Paul: That's very true, yeah. The lowball offers I mean, that's always a concern with your home's not ready if you even get an offer and the current market like we have today where the houses are moving quick, I've seen houses that aren't ready, priced too high and they just sit on the market versus the ones that are ready to show and priced properly, they move very quick.
Jo: Yeah. And over time, we have worked at one end of the spectrum, we've worked with clients that say, in a couple of years, I want to sell my home and I'm a planner. I want to do a consultation so that I have a list of projects to tackle. We've had other clients, where they've had multiple years on the market with no success. And so many times those that weren't proactive, and two years in advance is quite probably unnecessary. But even those that decide, I'm going to enter the market with putting my best foot forward, I'm going to do the work that I can tolerate doing, I'm going to spend what I can tolerate and list their home, they enter the market, they grab new prospective buyers and they've done the best they can do to be effective at the start. It's a tougher situation for someone that's been on the market for a while, because what happens is, at that point, you may have dropped the price a few times so you've lowered the bar. You're then at a point where you have to spend money and then to get buyers back when you're not the new and exciting offer on the market can make it more of an uphill battle. Not to say that you shouldn't still do it if the sale's not working. But if you can be proactive and work with your realtor to know that you're doing the best you can on your market strategy up front, the whole result of the outcome of your project is going to probably be more financially advantageous.
Paul: Yeah. And going back to one point you made earlier, somebody coming to you, you know, two years in advance I think that's also pretty valuable advice too. Because I've seen homes where you know, in my own situation, I was trying to sell my house and you know, had I had known somebody like you that hey come out, look here, take a look at my house, give me some ideas, we're going through some renovation projects. You know, this gives you a timeline like you said it gives you a list of you know, a to do list to get things done and make your homework best when you are ready to put it on the market.
Jo: Yes. And like I said, two years is quite a length. But I think if you can do three to six months depending on the scope of the project, I think that you can be a better buyer in the project when you're in crisis mode, and you wait till the last minute, you can make buying decisions that are more costly because of the need for speed. The other thing that a stager can do for you is make sure that you spend money on those items with the most impact. We've had clients, for example, that don't have granite countertops, but in addition to that they have a lot of other things that need to be repaired or updated. If your entire staging budget would be taken by granite, maybe what you need to do is be more comprehensive and shorten the overall list of projects and try to get it down to a minimal number of items, granite, or maybe some other upgrade. Because it's not a situation in this market where let's just throw granite on a countertop and overlook all the other problems in the house and think that it's going to sell. So, a stager team with your realtor can help you strategically make the right decisions for the kind of money and time that you're willing to put into the project.
Paul: Okay. And we talked earlier or you had mentioned earlier a little bit about painting and the types of colors that work best. What about the say age of the painting? I mean, let's say they're still modern colors, but would you recommend new paint?
Jo: What I would say what we look at, I think people buying diamonds do the same thing. It's color and condition. So, if the color is good, but the condition is not, we would recommend painting. If the condition is great, but the colors are dated, we would also recommend painting. So, what I would say is you kind of need to balance both of those items. The other piece is trim. When possible, the question trend right now is to have white trim. Now that may not be possible in a home that has natural wood throughout. That may be something that's too costly. And then maybe you overcome the brownness by adding colorful artwork and pillows and color in different ways. But in terms of trim that's painted white, the other is to make sure that it's in good condition, not nicked up, that doors, the kids that put stickers on their doors that's taken off. Ceiling in kids bedrooms, we're seeing less of this, but you know, the glow in the dark stars need to be pulled down and repaired. Those kinds of things just can be so impactful without having to spend a lot of money.
Paul: Okay, and what sort of tips can you give for the person who wants to do it theirselves, they're looking for some quick tips, staging tips to get their home ready to come on the market in the springtime; any good suggestions for them?
Jo: Well, what I would recommend is if you can do the investment in a staging company consultation, in the case of Design to Market, we charge $195. We do a complete walkthrough and we provide a list with paint colors and details that can serve as a do it yourselfer list. So, if you can justify an investment with a stager to at least create your punch list, I think that's a great place to start. And then if you are a do it yourselfer, you've got something to run with. If you're not, that can prove to be the platform for which you get quotes from contractors to put the total cost of the project together. And then maybe at that point, you sit down Paul, with your realtor and say, "This is what I would need to invest to tackle this list. How will this impact what I can do with the asking price for my home? Should I do these items or should we trim, and what should we look at?" So, it's an evolving kind of team project that can help you with that. But I would say in terms of the quick hit almost no cost items that you could tackle, one is having too many items in your home is really a problem.
For example, closets, if you can have the floors cleared if you can have not more than 80% full on the hanging space. In terms of storage in the lower level, or storage rooms if you can have floors cleared items neatly on shelves, remove family photos, from bookshelves and you know, hanging on the walls. If you can minimize clutter, and a lot of personal items in a bathroom, put the shampoo away, clear away anything but maybe the decorative towels and a piece of artwork. So, less is more and really that comes down to elbow grease more than money and those things are important. I would say clean windows, clean the house in an exterior, make sure that the beds are weeded, that the bushes are round, don't have a lot of yard art. Make sure that your house numbers and your mailbox are crisp and in good condition. And there are a lot of things like that are little money investment, that they go a really long way in the total package that you're offering.
Paul: True. Very good points. And let's say somebody did contract with you to get your services, how long would you be able to get their home in ready to show condition?
Jo: Well, one other component of our work that we do a lot of is also staging vacant homes. So, we own a fleet of furniture, we have at any given time 60 to 80 homes that can be staged with our furniture. That can be a home that had no furniture, or it can be one that needs to fill in with artwork and decorative items. Something like that, it's a one day project, it's quick. So, if somebody calls us and they tidy the house, they've got good paint colors, and they just need to have some staging done with materials, that's a quick project. In the sense of how long the project can take when more work is involved, we are able to for clients that need help to help oversee that project and get bids, we recommend painters, granite people, house cleaners. They're not employees of Design to Market, but they're a team that we can bring in and make it happen fast. But to answer the question, we do have clients with significantly more involved projects, but we can help shorten the time by getting a team in there. And then if it's something that you're under the gun to be listed in a certain amount of time, it's identifying those things on the list that you can do within the time you've got allotted. What I would say is that anyone that plans to put their home on the market for this spring, it's really smart for the November, December, January timeframe to make sure that they've got everything buttoned down so that they can list for spring. That's a good way to jump into the market and be competitive and fast. So, the more time you can allocate, the safer that you're going to be thorough with your project.
Paul: Okay. And what or I should say who would actually benefit from this type of service? I mean, is there a certain market or price range or type of home, any type of home?
Jo: Before we started doing this in 2004, I had made all these guesstimates about how I thought that we would fit into the marketplace. And truthfully, none of them rang true. We work-- I just got off the phone with someone selling a $95,000 home that called us about staging. We do work in homes million, 2 million and above. We work in downtown urban lofts, we've done cottages on the outskirts of Greater Cincinnati, we've worked in traditional homes, we've worked in condos. I would almost tell you that if someone is selling a residential piece of property, there may be a fitment need for staging.
Paul: Okay. Let's bring it back a little more local, you mentioned Cincinnati, we are based in Cincinnati. So, what areas of Cincinnati do you serve?
Jo: We actually, I will tell you Greater Cincinnati. We are in Batavia, we're in Harrison, we're in Independence, Kentucky, we work in West Chester, Liberty Township, Mason, and everything in between. There's probably not a neighborhood in Cincinnati that we haven't worked in sometime during our tenure as stagers. Areas of growth have been urban spaces we do a lot, you know, downtown, we do a lot in communities within the 275 loop, but at the same time, we are seeing a lot of activity with Mason and Westchester and homes that you know, four and five bedroom family homes, little modest starter homes in say Norwood, Oakley, Pleasant Ridge, Hyde Park. I mean really, honestly, there isn't something that I could define as something that we [ 22:02] worked in.
Paul: Yeah, so the Greater Cincinnati area [22:05].
Jo: Exactly, thoroughly, yes.
Paul: Okay. And then if somebody needs to contact you, what's the best way to get ahold of your company and get ahold of you?
Jo: So, my name is Jo Potvin. I'm the owner of Design to Market. I can be reached at 513-265-0952. And our website is DesigntoMarket.com, and that's Design T-O Market.com, and you can see there's a portfolio section with a lot of befores and afters, examples of our work, and information about staging.
Paul: Okay, yeah. And you're also-- I found you through Facebook, so you're also available via Facebook.
Jo: Facebook, Instagram, you name it. Yeah.
Paul: All the fun social media accounts.
Jo: That's it.
Paul: Okay, that's all I had for you today. Did you have any final thoughts that you want to add?
Jo: Well, I think it's an exciting time to be in the real estate market. I think things are positive, and I think people that make good decisions on the product that they're putting on the market and the price point are having a lot of success, which is a fun and exciting time to be in real estate.
Paul: Okay. Great. Thank you for being on my podcast and I look forward to working with you in the future.
Jo: Thank you.