How Is The Cincinnati and Northern Kentucky Real Estate Market Doing For Residential and Investment Properties?
Posted by Paul Sian on Friday, July 6, 2018 at 7:00 AM
By Paul Sian / July 6, 2018
Comment

How Is The Cincinnati and Northern Kentucky Real Estate Market Doing For Residential and Investment Properties?
The real estate market in general all over the United States has been experiencing gains with houses in and around many large cities selling at a quick pace once they hit the market. The Cincinnati and Northern Kentucky markets are no different and have been seeing rapid sales of homes in areas where demand is high. Residential and investment property have been seeing brisk sales and price gains over the past few years. Even with the increase in mortgage interest rates the market has not slowed down much.
Residential Real Estate In The Cincinnati and Northern Kentucky Markets
The Greater Cincinnati, Ohio and Northern Kentucky markets generally go hand in hand with each other and many residents of Northern Kentucky commute daily into Cincinnati as well as vice versa. The south east portion of Indiana is also considered part of the Greater Cincinnati tri-state area and is connected to the region by the I-275 loop which goes through all three states. On the Indiana side homes tend to have more land available there and the area is not as densely populated as the Cincinnati and Northern Kentucky areas are.
The Greater Cincinnati, Ohio consists of Hamilton, Clermont, Warren and Butler counties. In Northern Kentucky Boone, Campbell and Kenton counties are the northern most counties closest to Cincinnati. Due to more land availability new construction homes are more readily available in the Clermont, Warren and Butler counties as well as in Boone and Campbell counties. Hamilton and Kenton county being more established counties don't have as much land available for development and in some cases certain parts of those counties are seeing teardown activity in order to build new, larger and more expensive homes.
Greater Cincinnati, Ohio homes are up around 4% in price gains since 2017 and homes continue to sell at record pace with no signs of slowing down. Northern Kentucky has experienced price gains in the range of 10% since 2017 and continues to show strength in 2018. With the potential for mortgage interest rates increasing some of the demand can be attributed to buyers deciding to get off the sidelines before interest rates reduce their purchasing power. The new tax laws also do not have that great of an impact in the Cincinnati and Northern Kentucky area where average home prices are below $200,000.
Luxury Residential Real Estate
While luxury home sales in some areas is mixed Greater Cincinnati luxury sales have been maintaining a steady pace. Spring 2018 luxury home sales have overall been good. Median prices for luxury homes have fluctuated as the sales count has increased throughout the year.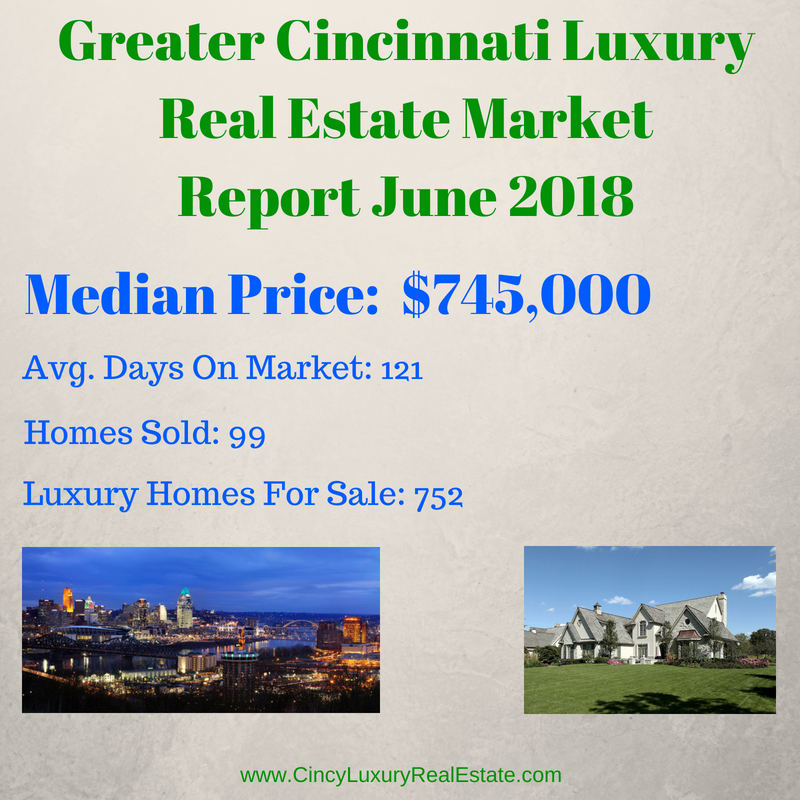 Investment Real Estate
Investment real estate in the Greater Cincinnati area continues to receive national and even international attention due to lower costs compared to high cost of living cities. Investors are purchasing multi-unit buildings in all of the Greater Cincinnati and Northern Kentucky communities where there is inventory. Bidding wars between investors is also not uncommon in the investment real estate market in the Cincinnati area with rehab homes especially receiving multiple offers from bidders who are hoping to purchase, rehab and then rent out or sell.
Some neighborhoods are experiencing 10-15% gains year over year due to the out of state investor interest in Cincinnati investment real estate. Cincinnati as a whole is experiencing population growth and the Cincinnati area has passed Columbus, Ohio to become the number one economy in the state of Ohio with a value of $132 billion dollars in 2017. Due to the population and economic gains Cincinnati is see a large inflow of investor dollars which has helped boost real estate prices.
Bottom Line
There has never been a better time to buy real estate in the Greater Cincinnati and/or Northern Kentucky areas than now. The Cincinnati region as a whole is growing and there are plenty of inexpensive options for both homebuyers and investors alike.
About the author: The above article "How Is The Cincinnati and Northern Kentucky Real Estate Market Doing For Residential and Investment Properties?" was provided by Luxury Real Estate Specialist Paul Sian. Paul can be reached at paul@CinciNKYRealEstate.com or by phone at 513-560-8002. If you're thinking of selling or buying your investment or commercial business property I would love to share my marketing knowledge and expertise to help you. Contact me today!
I work in the following Greater Cincinnati, OH and Northern KY areas: Alexandria, Amberly, Amelia, Anderson Township, Cincinnati, Batavia, Blue Ash, Covington, Edgewood, Florence, Fort Mitchell, Fort Thomas, Hebron, Hyde Park, Indian Hill, Kenwood, Madeira, Mariemont, Milford, Montgomery, Mt. Washington, Newport, Newtown, Norwood, Taylor Mill, Terrace Park, Union Township, and Villa Hills.